Pin It
Let this delightful poem inspire your day!

--Description: 20th C, Auden W.H., Love --
Time will say nothing but I told you so,
Time only knows the price we have to pay;
If I could tell you I would let you know.

If we should weep when clowns put on their show,
If we should stumble when musicians play,
Time will say nothing but I told you so.

There are no fortunes to be told, although,
Because I love you more than I can say,
If I could tell you I would let you know.

The winds must come from somewhere when they blow,
There must be reasons why the leaves decay;
Time will say nothing but I told you so.

Perhaps the roses really want to grow,
The vision seriously intends to stay;
If I could tell you I would let you know.

Suppose the lions all get up and go,
And all the brooks and soldiers run away;
Will Time say nothing but I told you so?
If I could tell you I would let you know.

Auden W.H.
--Did You Know:
(21 February 1907 – 29 September 1973) Auden grew up in Birmingham in a professional middle-class family and read English literature at Christ Church, Oxford. His early poems, written in the late 1920s and early 1930s, alternated between telegraphic modern styles and fluent traditional ones, were written in an intense and dramatic tone. He signed his works W. H. Auden and was an Anglo-American poet, born in England, later an American citizen, regarded by many as one of the greatest writers of the 20th century.His work is noted for its stylistic and technical achievements, its engagement with moral and political issues, and its variety of tone, form and content. The central themes of his poetry are love, politics and citizenship, religion and morals, and the relationship between unique human beings and the anonymous, impersonal world of nature.
--Word of the Day:
undulation \uhn-juh-LEY-shuhn, uhn-dyuh-, -duh-\, noun:
1. A regular rising and falling or movement to alternating sides; movement in waves.
2. A wavelike form, outline, or appearance.
3. One of a series of waves or wavelike segments.
Considering the difficulty of the golf course, the severe undulation of the greens, the magnitude of the event and the quality of the competition, Inkster ranked it as her greatest victory, particularly because she turned 42 last month.
--Clifton Brown, "GOLF; One for the Ages, As Inkster Wins U.S. Open at 42", New York Times, July 8, 2004
--Quote of the Day:
All the art of living lies in a fine mingling of letting go and holding on.
-Henry Ellis
--French Word of the Day:
se souvenir, se rappeler - remember
1. transitive verb
1. (recall) se souvenir de, se rappeler (fact, name, place, event);
se souvenir de (person);
to ~ doing se rappeler avoir fait, se souvenir d'avoir fait;
2. (not forget) to ~ to do penser à faire, ne pas oublier de faire.
2. intransitive verb se souvenir.
Quote:
(eg) Essaie de te rappeler ce qui s'est passé.
(transl) Try to remember exactly what happened.
Coffee Table Poetry for Tea Drinkers
is updated often.
The easiest way to get your regular poetic inspiration is to subscribe by selecting
E-mail
or
RSS Reader.
Also, come follow us on

Twitter.

We look forward to making every day memorably intriguing for you.
Visit Coffee Table Poetry's all-new Guest Book For Poets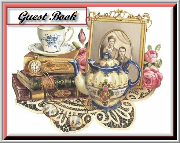 Subscribe to awesome Cool iPhone Apps Free To $5 Caps:
Posted by V. Mahfood
Pin It