Pin It
Let this delightful poem inspire your day!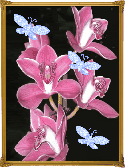 --Description: 20th C, Frost R., Beauty, Love, Nature
The rose is a rose,
And was always a rose.
But now the theory goes
That the apple's a rose,
And the pear is, and so's
The plum, I suppose.
The dear only knows
What will next prove a rose.
You, of course, are a rose
But were always a rose.

Robert Frost

--Did You Know: (March 26, 1874 – January 29, 1963) Frost was an American poet. He is highly regarded for his realistic depictions of rural life and his command of American colloquial speech. Robert Frost was born in San Francisco, California to journalist William Prescott Frost, Jr., and Isabelle Moodie. His mother was of Scottish descent, and his father descended from Nicholas Frost of Tiverton, Devon, England, who had sailed to New Hampshire in 1634.

--Word of the Day: apogee\AP-uh-jee\, noun:
1. The point in the orbit of the moon or of an artificial satellite that is at the greatest distance from the center of the earth.
2. The farthest or highest point; culmination.
But in retrospect, this period would prove to be the apogee of O'Sullivan's career, although he always felt bigger and better things were on his way.
-Edward L. Widmer, Young America

--Quote of the Day: "You can complain because roses have thorns, or you can rejoice because thorns have roses."
-Tom Wilson

--Spanish Word of the Day: florido, adjective:
flowery; in bloom
The state of Florida was given its name by the Spanish navigator Juan Ponce de León. Nowadays the word florido is generally used to refer to flowery language - lenguaje florido
Coffee Table Poetry for Tea Drinkers
is updated often.
The easiest way to get your regular poetic inspiration is to subscribe by selecting
E-mail
or
RSS Reader.
Also, come follow us on

Twitter.

We look forward to making every day memorably intriguing for you.
Subscribe to awesome Cool iPhone Apps Free To $5 Caps:
Posted by V. Mahfood
Pin It