Pin It
Let this delightful poem inspire your day!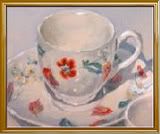 --Description: 19th C, Whitman W., Friendship, Hope, Nature

I saw in Louisiana a live-oak growing,
All alone stood it, and the moss hung down from the branches;
Without any companion it grew there, uttering joyous leaves of dark green,
And its look, rude, unbending, lusty, made me think of myself;
But I wonder'd how it could utter joyous leaves, standing alone there, without its friend, its lover near--for I knew I could not;
And broke off a twig with a certain number of leaves upon it, and twined around it a little moss,
And brought it away--and I have placed it in sight in my room;
It is not needed to remind me as of my own dear friends,
(For I believe lately I think of little else than them:)
Yet it remains to me a curious token--it makes me think of manly love;
For all that, and though the live-oak glistens there in Louisiana, solitary, in a wide flat space,
Uttering joyous leaves all its life, without a friend, a lover, near,
I know very well I could not.

Walt Whitman
--Did You Know:
(May 31, 1819 – March 26, 1892) Whitman was an American poet, essayist, journalist, and humanist. He was a part of the transition between Transcendentalism and realism, incorporating both views in his works. Whitman is among the most influential poets in the American canon, often called the father of free verse. His work was very controversial in its time, particularly his poetry collection Leaves of Grass, which was described as obscene for its overt sexuality.
--Word of the Day:
louche\LOOSH\, adjective:
1. Of questionable taste or morality; disreputable or indecent; dubious; shady.
Quotes:
(eg) You've got to keep yourself free of any suggestion of louche behavior.
-Anthony West
(eg) A man in a bar, utterly average, though there is something louche about him, something sly.
-Andrew Holleran, In September, the Light Changes
--Quote of the Day:
Although human subtlety makes a variety of inventions by different means to the same end, it will never devise an invention more beautiful, more simple, or more direct than does nature, because in her inventions nothing is lacking, and nothing is superfluous.
-
Leonardo DaVinci
--French Word of the Day:
headache (noun) mal a la tête;
to have a headache: avoir mal à la tête.
(eg) j'ai un mal à la tête.
(transl) I have a headache.
Coffee Table Poetry for Tea Drinkers
is updated often.
The easiest way to get your regular poetic inspiration is to subscribe by selecting
E-mail
or
RSS Reader.
Also, come follow us on

Twitter.

We look forward to making every day memorably intriguing for you.
Subscribe to awesome Cool iPhone Apps Free To $5 Caps:
Posted by V. Mahfood
Pin It